Registration in the Crickex Affiliate Program
Becoming a partner of Crickex is quite simple because you need to fill out a special form so that the company can consider your offer. Check out the instructions below which will help you understand the process.
On the website open the Affiliate Program section that is available for everyone who wants to register.
Click the Register button and provide the requested data for review.
Wait for a response letter after the company's employees receive your form with data and approve it.
The manager will contact you to provide advice and assistance at the beginning of the partnership.
Get profit for every newly registered user of the Crickex website thanks to the affiliate program. Every month, your bank account will be credited with the commission amount received from the promotion of the platform.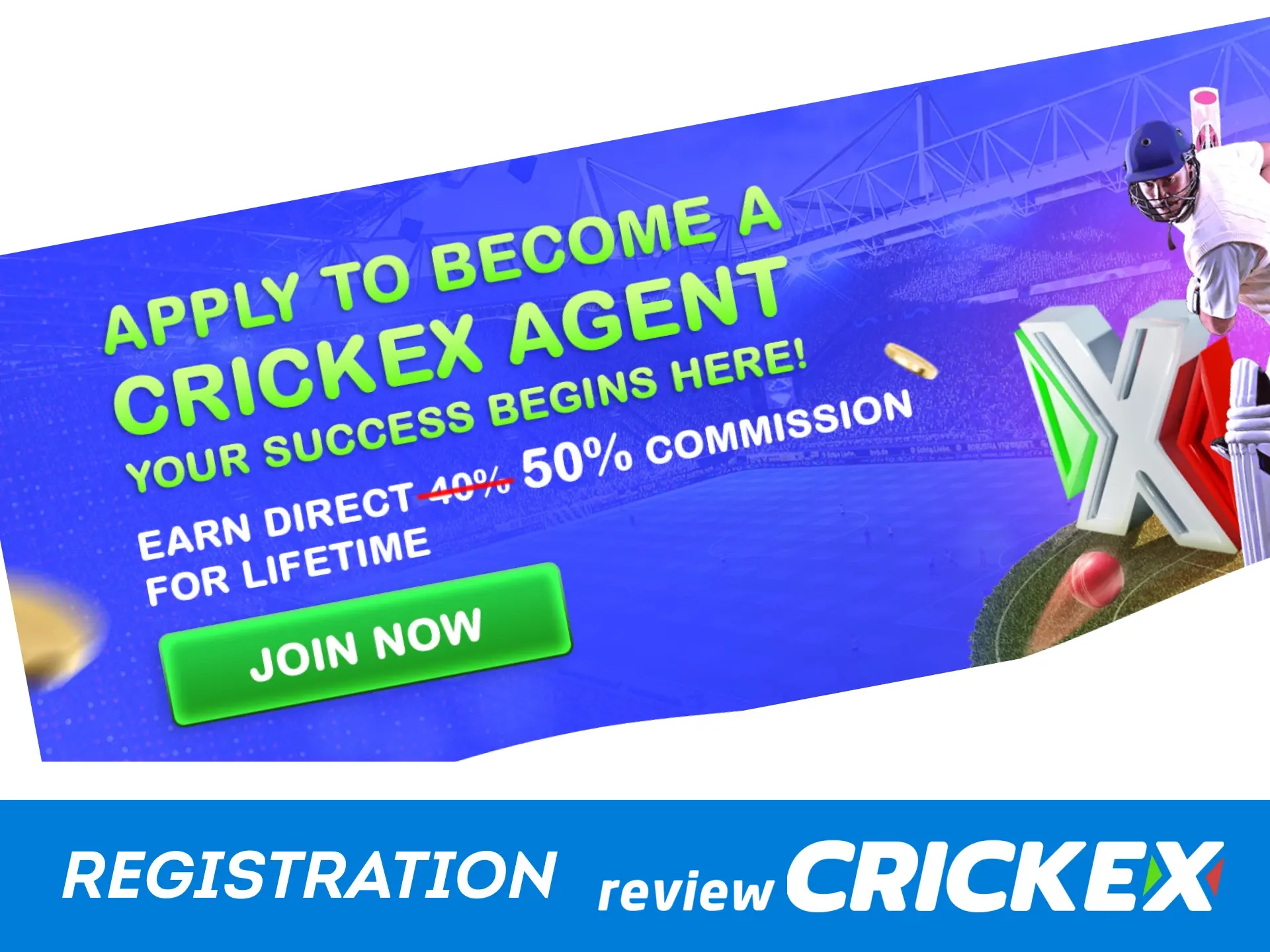 How much Money Can I Earn with the Crickex Affiliate Program?
The Crickex affiliate program provides a unique opportunity for individuals and businesses to earn income by marketing the platform. Affiliates receive commissions depending on the activity of new gamers introduced to Crickex.
The program's compensation structure is based on a formula that takes into consideration a variety of parameters. The following components make up the formula: player win/loss, operating costs, bonus, and commission. The following is the formula: (Player win/loss – Operating cost – Bonus) * 50% = Commission. This implies that affiliate commissions are generated based on the net outcomes of players' winnings and losses, after deducting the operational costs and bonuses. The resultant value is then multiplied by 50% to produce the affiliate commission amount. This method guarantees that affiliates have a fair and transparent compensation system, allowing them to earn money depending on the performance of the players they recommend.
You can view some examples of the formula down below.
| Member | Player Win/Loss | Operating Cost | Bonus | Commission 50% |
| --- | --- | --- | --- | --- |
| Player 1 | 2,000,000 | 400,000 | 40,000 | – |
| Player 2 | 1,500,000 | 300,000 | 20,000 | – |
| Player 3 | 2,600,000 | 520,000 | 10,000 | – |
| Player 4 | -500,000 | 0 | 0 | – |
| Player 5 | 1,000,000 | 200,000 | 10,000 | – |
| Total | 6,600,000 | 1,420,000 | 80,000 | 2,550,000 |
Crickex Affiliate Program Rules and Conditions
The Crickex company is based on the principles of honesty, safety, and legality, as evidenced by the presence of a large and constant audience from all over the world. The honesty policy also applies to the affiliate program. All terms of cooperation are clearly spelled out on the site, which allows players to know in advance what they will have to do and how much partners can earn.
Crickex has developed some rules that must be followed for correct operation and reliable cooperation. Read the rules before starting cooperation with the brand.
Depending on how much the company earns from the users you refer, you will receive 10% to 50% of the profit from the affiliate program;
There is a definite relationship between the affiliate's profit share and the downline member's profit share;
In the event that a single member creates multiple accounts, the income of each account is not distributed;
Depending on the monthly net loss, partners receive profit shares. This amount is also used for cashback and refund calculations;
Within five working days of the beginning of a new month, earnings are transferred;
In order to comply with regulatory requirements, Crickex affiliates must provide all requested information;
When registering for the affiliate program, the Partner will use only accurate information;
If you are using our affiliate program to commit fraud or money laundering, you are prohibited from doing so;
For marketing and analytical purposes, Crickex may use the information provided by users voluntarily. The purpose of this is to improve the quality of customer service. It is important to note, however, that this information is never used outside of these purposes by the company.
This information is enough to start productive cooperation with the company and start earning big profits with Crickex.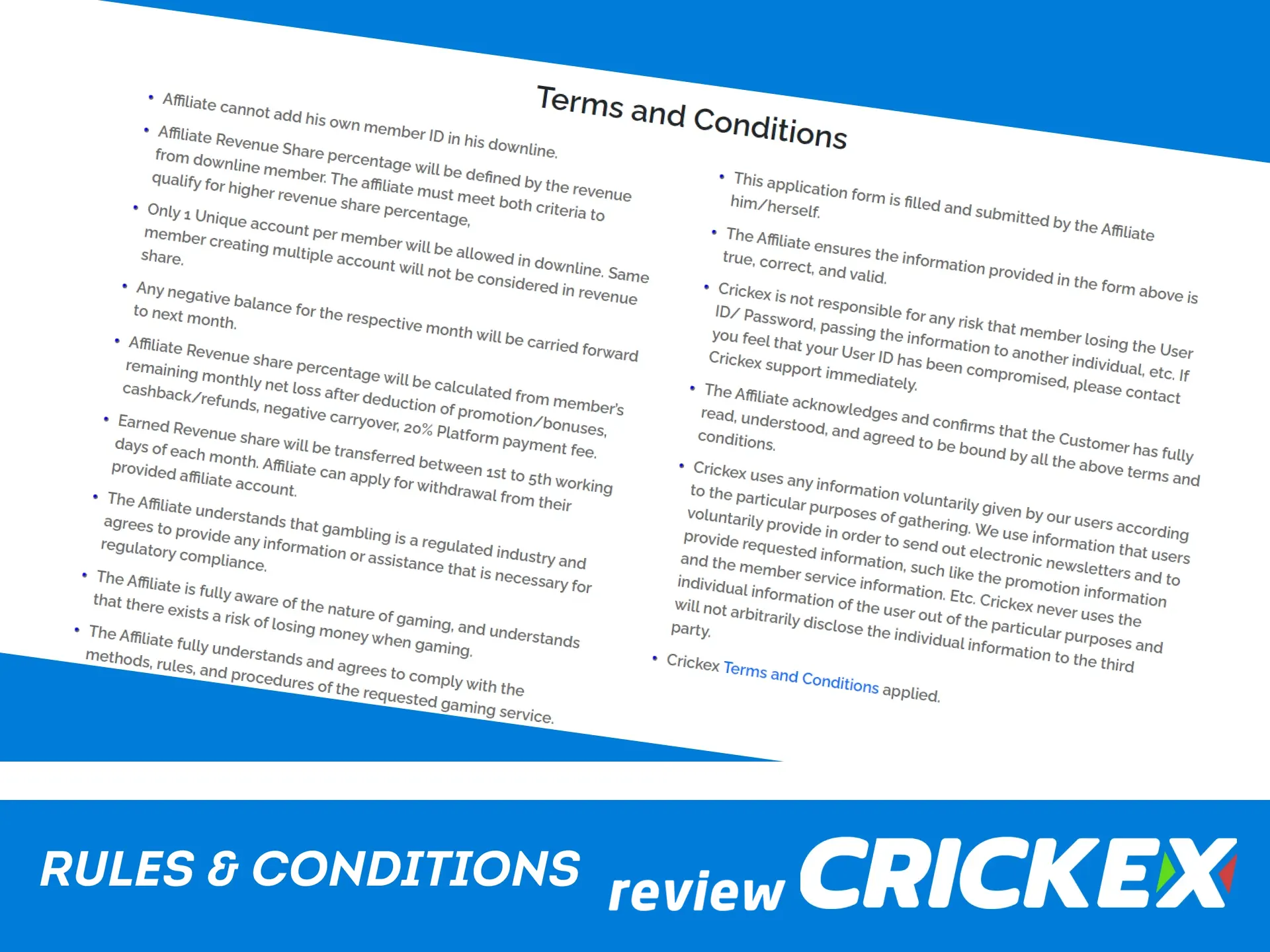 Crickex Affiliate Program Features
Cooperation with a company like Crickex can be quite productive and successful for you due to the many advantages of the company. The platform offers all the conditions to make your earnings as satisfying as possible.
Your participation in the program does not require an investment from the outside, and you always have help and support in the person of a personal manager who can be contacted for any question or even training;
Up to 50% commission from the company's profits is available for you every month. Even if you stop attracting customers, profit will still come from users who are already playing on the site;
You will have access to statistical data to evaluate your promotion methods and to build new marketing strategies;
All conditions are as transparent as possible, so you can calculate your possible profit in advance;
All marketing materials for promotion are available for partners on the site;
You don't have to have a website to post promotional materials.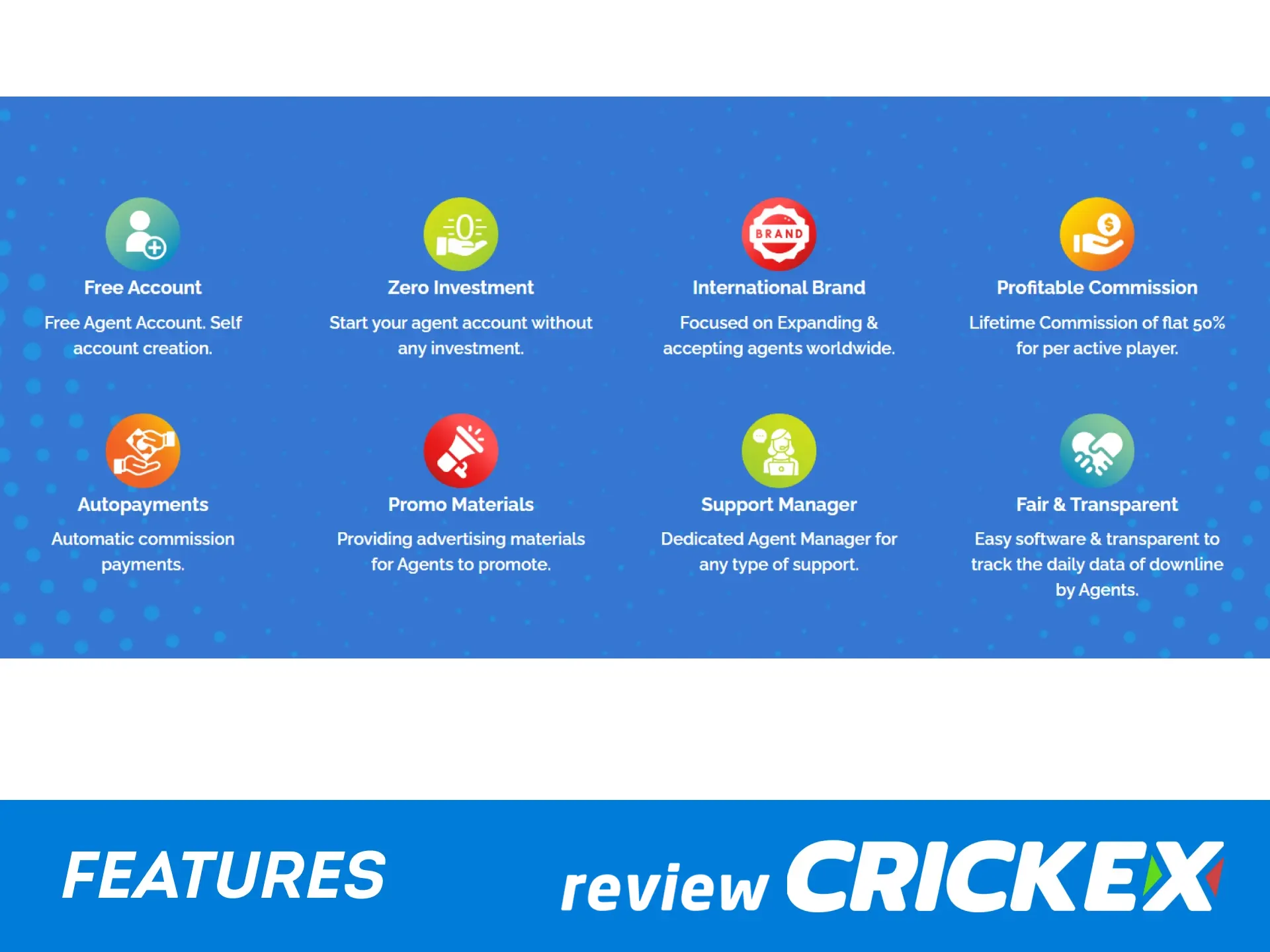 FAQ
What payment methods are available to Crickex Partners?
You can also choose a payment method convenient for you and tell your manager about it. If you have questions in the process, then feel free to ask them also to your manager, as he will be able to give you accurate information. Your entire percentage of income will be credited to your account without any fees.
How many times can I withdraw my profit from my affiliate account?
Once a month, your share of income will be credited to you. In some companies this is done every week but not so in Crickex. Within the first five working days, you will receive your earnings. If you have any problems with the withdrawal of profit, contact your manager.
What is the minimum number of active players I need to qualify: 3? Is there a minimum amount of commission?
It is true that affiliates must meet both criteria in order to be eligible for commissions. The partner will also not qualify if he has two active players and the amount exceeds 500. There will be a dismissal of the commission received by a specific partner. Always carefully study all the terms and conditions for the successful use of offers.
How can I find out if new players are registered through my source?
By creating an affiliate account with Crickex, you will be able to create your own unique tracking link. Ensure you place a referral link on your information resources, otherwise, you will not be able to count new users. You can always go to the statistics of your profile and evaluate its effectiveness.
Updated: